Discover how we can create a breakthrough for your company.

Be Iconic. Stand Out.
Apply Here.
This is the one change that will elevate your business exponentially—giving you BIG results!
Never before have entrepreneurs seen so many:
new products copied so fast
competitors showing up overnight and
customers getting much more savvy.
Entrepreneurs are SO burned out…
And yet adding another million dollars to your business has never been so easy to do than now.
So how do you STAND OUT?
That's exactly what the Iconologie Breakthrough Intensive helps you to do.
Be Iconic. Stand Out.
Apply Here.
I believe that...
When you're not thriving yet, you have to uncover why.
When people aren't buying, it's time to look within.
When something's not working, you cannot throw more money at it.
When you make this shift, the breakthrough comes.
And here's the thing about breakthroughs: almost always something has to die in order to make way for the new creation.
I know how to fix marketing problems first-hand.
In my work as a high growth specialist for 15 years and with 1000s of businesses, I've worked with many entrepreneurs that were disconnected from themselves, their business and their customers.
They thought they had a marketing problem, but it was really a connection problem.
Case Study: A 3000% Return on Investment
For example, one client was stuck on their marketing campaign. They wanted to find something different to promote besides a Buy One Get One Free campaign, which they openly admitted to being addicted to.
We developed a new brand story that told the compelling story of how a father's love for his daughter spurred him to create a hearing aid with the most advanced technology available. That marketing strategy created a 30:1 Return on Investment - compared to the company's previous 6:1 control!
So, while their marketing techniques were still profitable, ours were 5 times more profitable! The Franchisor was able to grow the number of franchisees by 344% in 2 years. They went from an 8-figure Franchise to a 9-figure Franchise very quickly!
So why settle for only profitable with your marketing? This company could have been happy with a 6:1 return, but they went for wildly profitable with a 30:1 return...
I really want you to know that no matter how:
Uncertain you are about your path...
Irritated or immobilized you feel...
Or, how much you believe that it's all stopped working...
It only takes a tiny shift to get you realigned because...
Small and simple things can bring about huge breakthroughs.
...just like inventions that have gone on to be insanely popular.
Like the bicycle.
Throughout the 1800's, the bicycle was constantly tweaked until it gained popularity. Bicycling started out as an athletic man's sport -- and then became accessible to women, children and non-athletes when the "safety bicycle" incorporated four important factors: safety, speed, comfort and steering.
Or Play-Doh.
It was originally a goo used to remove soot off wallpaper, but once gas and electric heating came, it looked like the product was no longer needed. Until the inventor's sister-in-law told him to add some color to it, offer it to kids and call it Play-Doh.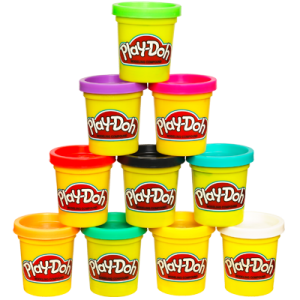 And then there's Instagram.
It started as an app called "Burbn," a lookalike to the Foursquare app that allowed users to check in at a particular location, earn points for hanging out with friends, and post pictures of the meet-ups. But users only wanted to share their photos. Instagram was born.
It's the little tweaks, the outside-the-box ideas, the simple but innovative changes- that will transform your whole business.
+ New products...
+ New ways to market...
+ New ways to share your message with the world...

This breakthrough calls for your deepest commitment yet if you:
Wish to stand out among your competitors.
Think your marketing is broken.
Have been playing small.
Want to copy/paste what you *think* is working for others.
These are signs you are ready to head in a new direction. You may not know which direction it will be yet (we will find it together), but you won't find it sitting around!
Words of wisdom: if you're feeling called to change, don't try to ignore it… Because when we ignore the call to change, it can manifest tougher challenges, greater obstacles, and seemingly insurmountable struggles. Listen to that inner voice and take action.
The Point-of-View is Vital
In the past or present, you may have been looking at your marketing in segments instead of as a whole.
This is similar to when you look at a pyramid, you can only see two full sides at the most.
When you can achieve the proper point-of-view from above, you can see all four exterior sides at the same time.
And when you go within the pyramid, you can see all five sides (foundations included).
This is seeing your business from a holistic perspective.
Seeing the Sides in Perspective
Imagine that at the end of 4 short weeks, you will have the ONE BIG IDEA that will catapult you forward into the next 5 years.
You'll not only have that idea, but also you'll be taking huge momentum-building action during those 4 weeks.
This is a private INTENSE journey that you'll take with me and a small group of individuals like yourself.
Together, we'll discover the 1% catalyst that will boost the other 99% of your business…
...The one small step that will lead you towards your next big thing.
Because I have seen first-hand the backends of 1000s of businesses in more than 60 industries, and I've personally consulted my clients on a 1:1 basis, helping them make anywhere from $100,000 to $1,000,000 or more in a matter of weeks…
...A Superpower was gifted to me.
My superpower is my ability to identify the small tweaks that will lead to a business breakthrough...
...like when I helped a client who grew from nearly zero to $15 million in under a year. In all, I've helped my clients sell more than $3 billion dollars (billion with a B) in products and services.
And unlike other growth strategists, I speak from first-hand experience of starting, succeeding, failing, buying, selling and/or streamlining eight of my own businesses.
Who Is Leading the Iconologie Breakthrough Intensive?
Growth strategist Christie Turley has sparked innovation in a wide variety of multimillion-dollar companies around the world. From supporting international campaigns to catering to conscious enterprises, her clients all seek the same thing: a breakthrough. And Christie delivers. Her approach allows her to identify changes that lead to massive results, like one client who grew from zero to $15 million in under a year. Clients include the small and large, the public and private:
International technology, travel and lifestyle companies, like Carnival and American Express.
eCommerce retailers and Consumer Packaged Goods (CPG) companies from $1MM to $30MM+ in annual revenues, like Puj, Spellbinders and Old School Labs.
Brick-and-mortar businesses with 40+ locations, like Zounds and Data Doctors.
Plus countless small businesses from more than 60 industries.
She started her digital marketing career over two decades ago and launched her award-winning consultancy when she was 24 at the birth of the internet. Since then, she's transformed thousands of businesses and sold $3 billion dollars in products and services. Unlike other growth strategists, Christie also speaks from first-hand experience of starting, succeeding, failing, buying, selling and/or streamlining eight of her own businesses. Her superpower is her ability to identify the small tweaks that will lead to a business breakthrough, and to create authentic marketing that articulates a brand message in a way that gets results and wins customers' hearts.
Questions?
Catalyzing Impactful Entrepreneurs to

Create Aligned & Fulfilling Businesses
Christie & Her Clients Have Been Featured In:
---