Feeling the Divine Call of Your Soul?
You are a savvy entrepreneur. You're often the smartest person in the room.
So why would you want to change anything now?
Isn't it good to be satisfied with your success and the amount of business you have coming in?
Yes… AND…
At the same time, can you deny the stirrings of your soul? What if there's a greater genius inside of you that is ready to come forward now?
Do you think those whispers will just go away if you ignore them? Do you feel as if the nudges could get louder?
Trust me, they get louder.
I was at the top of my game, been in business as a business strategist and marketing agency owner for 17 years, sold $3Billion (Billion with a B) of products and services for clients from start-ups to Fortune 500, in an elite mastermind of 7, 8 and 9 figure business owners, had the cash flow, the car, the house…
And YET, some Divine Discontent was creeping in.
I started to feel the stirrings of my soul.
At first, I ignored it.
That didn't go well, and I explain that in Part 1 of this blog, "My Reinvention Story"…
During this reinvention time, I discovered that all of these trends are converging at once:
Customers are now more suspicious than ever (i.e. "you just want my money").
Customers have more purchasing choices than ever before ("analysis paralysis").
87% of consumers buy products with a social or environmental cause when given the choice (customers want to make a difference with their dollars).
Intuition is becoming the secret weapon of many creatives, coaches and entrepreneurs (we're raising our consciousness).
Imagine if you could harness these trends, make a bigger impact and even multiply your profits….
While other entrepreneurs are chasing hacks and ninja tricks, savvy entrepreneurs are recalibrating their business to harness these trends….
AND — they are creating the image and message that they've been feeling at the deepest levels of their SOUL.
They're implementing what I'll be sharing with you today to deliver meaningful impact, even higher profits, increased visibility and happier employees and customers.
A short while ago, I had another epiphany when I took a trip with my husband to Haiti to build houses for the homeless and fed orphans. There I was… a woman who had it all, standing around parents and kids who had nothing but the smile on their face. They didn't even have lights to turn on after the sun went down (which we also gave them). It was one of the most transformational experiences of my life. Just thinking about it brings tears to my eyes!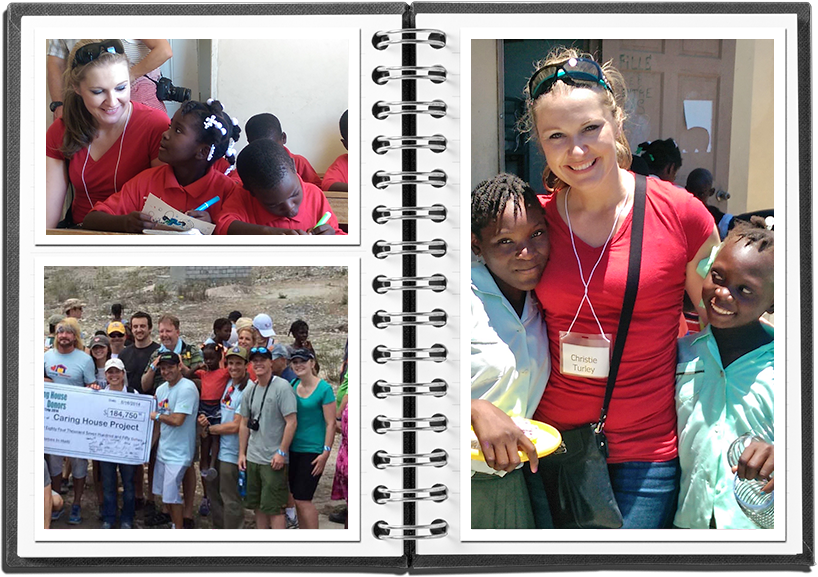 And then I realized — the more money I make as an entrepreneur, the more positive change I can make.
And it turns out, customers want to make a difference with their dollars, too! It's a difference they can FEEL.
Changing the way business is played in this way can ACTUALLY deliver even higher profits, too.
"Companies with a conscience" outperformed the S&P by more than 1000% over 10 years, according to a study in the book Firms of Endearment by Raj Sisodia, Jag Sheth and David B Wolfe.
But here's the thing,
You can't just slap a cause on your brand and call it done.
Customers are more suspicious than ever, so it has to be authentic and embedded into the SOUL of your brand AND at every step of the customer journey.
You must create the STRUCTURE, the STYLE and the STORY around your bigger mission. I'll get to that in a minute.
In addition to the converging trends, I also believe there are some cosmic forces at work right now.
Right now…
We have one foot in this THIRD dimension of marketing and one foot in the FIFTH dimension. The door on the THIRD dimension is starting to close and that's why it's feeling like the old tactics are no longer working.
We're realizing that people buy from people, not brands. It's about creating an entire experience for customers. Brands are creating impact, community culture, causes and movements. Brands that show empathy and connection to their communities are thriving and brands in the 3rd dimension are catching resistance and scoffs from skeptical customers.
This FIFTH dimension is about serving OTHERS – a heart-based way of marketing and not serving the SELF (the pocketbook of the brand).
We're moving from TRANSACTIONAL marketing to TRANSFORMATIONAL and better yet, TRANSCENDENTAL marketing.
Consumers are awakening to the true intentions behind brands. They intuitively know if a brand is virtue signaling or if their heart and soul is truly IN IT to help make a difference on the planet. We are moving from identity to collective community.
It's like we're going from 3D Merchants to 5D Movement Makers.
We are also experiencing RAPID change in our everyday lives and environment. We saw this in 2020 with many global events. Marketing is floundering because the collective consciousness is literally changing every day, responding with emotions based upon how they're experiencing the changes in the environments.
Marketing that was received as sensitive and caring yesterday can sound TOTALLY tone deaf today.
How do you deal?
It starts with YOU.
You are the constant in the change.
First, you must be in a deep relationship with your soul and find connection to who you actually are (instead of what you think you are), and only then can you be in true connection with your team, customers and business.
Then look at what your sacred calling is.
It must be ALIGNED to you – and not something you pick out of a catalog.
What does Alignment actually mean?
Let me explain with a metaphor… Did you know that rainbows form at precisely 42°?
At 39°, the rainbow isn't visible. At 51°, it's partially visible, but it quickly disappears. At exactly 42° is where the rainbow has its bold impact.
This is a perfect illustration of ALIGNMENT.
And did you know that no two people (even though they might be standing side-by-side) will ever see the same rainbow? Think about that… Each rainbow is unique, in its own way, to each observer.
This is why some people who teach marketing are teaching from their viewpoint of the rainbow….To someone else it's not the right angle. And if it's not the right angle, it won't create the impact or deliver higher profits that you're intending.
The harder we try to implement tactics that are NOT aligned to us, the more they won't work. This is part of going toward the 5th dimension. The more these tactics are not aligned to where the planet is going, the more they won't work. This is why I believe so many 6- and 7-figure entrepreneurs I speak to are saying that their marketing is no longer working as well as it used to.
At 42°, all is in perfect alignment — who you are, your mission and the true SOUL of your business.
There is only ONE you.
There's only ONE way that your business and message will shine their brightest — at your own 42°.
When it comes into perfect alignment, customers can sense it on an intuitive level — it helps speed up trust factor — which only enables you to help them through the transformation of your products and services.
My Alignment Story
I learned this lesson of ALIGNMENT after experiencing the challenge of infertility for 7 years with my husband. It had to be the right place, the right circumstances, the right treatment, the right doctor — all in divine timing.
ALIGNMENT also came into play in my business as I hinted to at the beginning. I was at the top of my game… I was being called to something bigger. I didn't listen.
Little by little, the Universe was making it so I was less and less distracted.
Income sources dried up, opportunities dried up, proven tactics stopped working…
I was being lovingly called to take a look in a deep way – and to make changes.
And the result of those changes was a complete career reinvention. I went from an award-winning marketer to a psychic medium. Talk about a total shift!
It wasn't easy… I had to release my ego BIG TIME and have the courage to be aligned to my superpowers and what makes my soul happy.
As I went through this process, I could also see I was clearing a path for others who are being called to something greater like I was. It became my signature process. I'll tell you more about that in a minute.
If EVER there was a time to tune into that DIVINE calling you have inside of you, it's NOW.
This will help you to plant deep roots in the ground. Being rooted in your greater calling, you won't be tossed "to and fro" with the changing winds of the world. You'll have a business that is Future-Proof, prepared to meet the RAPID change of the future. You won't have any need to grab a shiny object tactic or ninja hack to chase customers.
Your business will be calm, in the eye of the storm with a vantage point to help your customers with empathy and soul.
It's like a light house. A light house shines the way for ships to come into the harbor. A light house doesn't chase after the ships to show the way. It's still. It's constant.
The light house is YOU. You get in touch with your light and then shine and do not move.
If your intuition is telling you there's a divine calling, chances are it's NOT directly telling you what it is. You feel intuitively that it's there, but you don't know what it is yet or what it means for you.
I have my signature process for uncovering your divine calling, which I developed because I was going through the same thing. I realized that part of my divine calling was to create a "Roadmap of the Coming S.H.I.F.T. for Visionary Leaders and Spiritual Teachers" to follow as I was going through the steps, so I could clear a path for others to walk on.
I call this process a SOUL ALIGNMENT. Think of it as a Gentle SOUL Intervention to uncover all of your unanswered questions about why you're here and what you came to do.
I LOVE to help my clients connect who they (actually) are to the true SOUL of their business, so they can deliver meaningful impact, even higher profits, increased visibility and happier employees & customers.
How many lives do you want to touch?
100, 1000 or 1M?
My mission is all about helping you… and I've done the math…
The way that I can personally improve the lives of 1 Million Plus people (each year) through my work is by helping 100 or more elite entrepreneurs, like you, deliver meaningful impact and even higher profits.
So if you're….
Wanting to create a ripple effect that creates a huge wave sweeping across the planet.
Wanting to speed up growth…
Done surviving in a crowded market…
Tired of launching a new flavor of the week…
Or competing on price…
Working hard for very few rewards…
Wanting to attract premium customers…
I invite you to check out my Group Mentoring Program…
This process is designed to help you connect who you are with the true SOUL of your business, so you can deliver meaningful impact, even higher profits, increased visibility and happier employees & customers. help you pull out the subconscious information that will lead to the greatest work of your life. 
I also offer private Akashic Record readings through my 1:1 Soul Alignment and Business Alignment sessions.
Christie Turley ignites growth in visionary leaders and soul-centered entrepreneurs, with her business mentoring and coaching. Her superpower is to help uncover her client's untapped gifts, abilities and purpose, so they can make the best use of their resources and energy. She also has the instinctive ability to look at a brand, name or message, and immediately know if it's an authentic match to who the person truly is (and how to re-align it).
She launched her career in marketing and communication while in college. By age 24, she had grown two businesses by more than $30 Million total, worked with many Fortune 500 brands, and started her own branding & marketing agency. In the past 20 years, she's started, streamlined, bought &/or sold nine businesses, and has coached thousands of entrepreneurs.
Christie is a Business Mentor, Akashic Records Channel, Clairvoyant, Hypnotherapist, Energy Healer, Author of the book, The Intuition-Led Business, Host of The Higher Genius Podcast and has shared the stage with many New York Times bestselling authors. She lives in the USA with her husband and their two beautiful daughters.