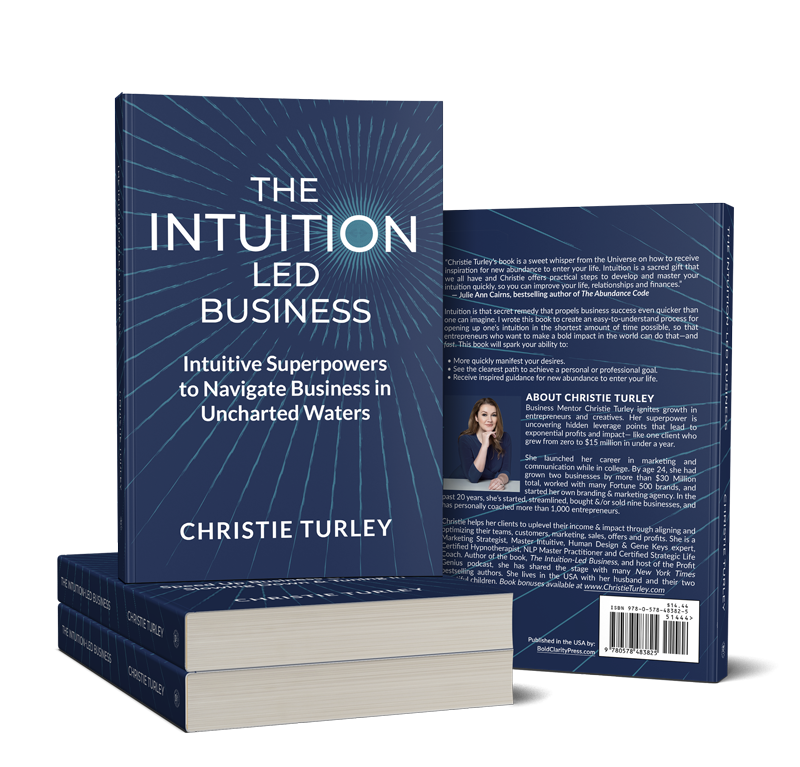 The Intuition-Led Business
I believe that better decision-making is the keystone to effective leadership, engaged teams and business innovation. The problem is, 95% of our decisions are made unconsciously. This book offers an easy-to-understand process for unlocking one's intuitive and subconscious minds, so you can improve decision-making and deliver greater profits, influence and impact.
---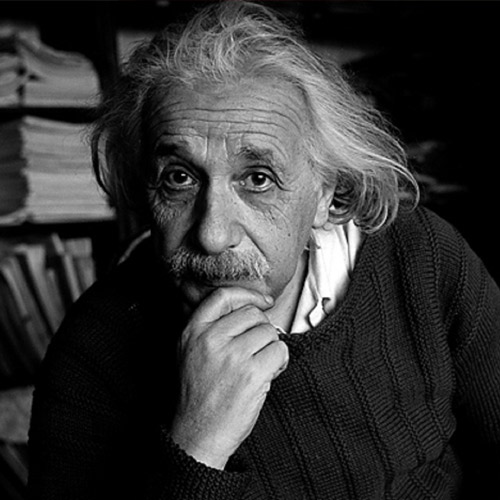 "The only real valuable thing is intuition."
— Albert Einstein

I wrote this book to create an easy-to-understand process for opening up one's intuition in the shortest amount of time possible, so that entrepreneurs who want to make a bold impact in the world can do that— and fast.
Author of The Intuition-Led Business

Receive clear guidance for better decisions.
See the clearest path to achieve a goal.
Shape your ideal life.
"Christie Turley's book is a sweet whisper from the Universe on how to receive inspiration for new abundance to enter your life. Intuition is a sacred gift that we all have and Christie offers practical steps to develop and master your intuition quickly, so you can improve your life, relationships and finances."
— Julie Ann Cairns, bestselling author of The Abundance Code and
director of the documentary, The Abundance Code, as seen on Gaia

Order the Book
& Claim Free Bonuses
Step 1:

Order the Book from One of These Retailers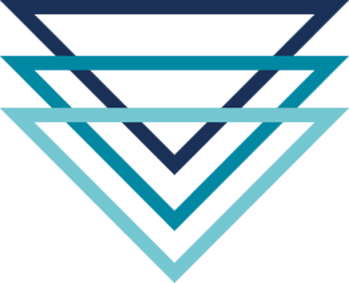 ---
Buy Direct
Get it Signed + Free Shipping to USA
---
---
On Amazon & Amazon Kindle Worldwide:
---
---
Step 2:
Register to Receive Your FREE Bonuses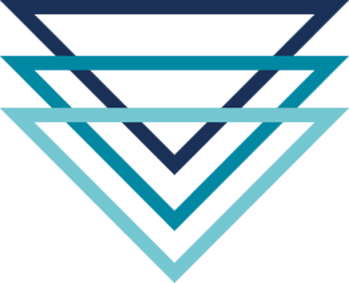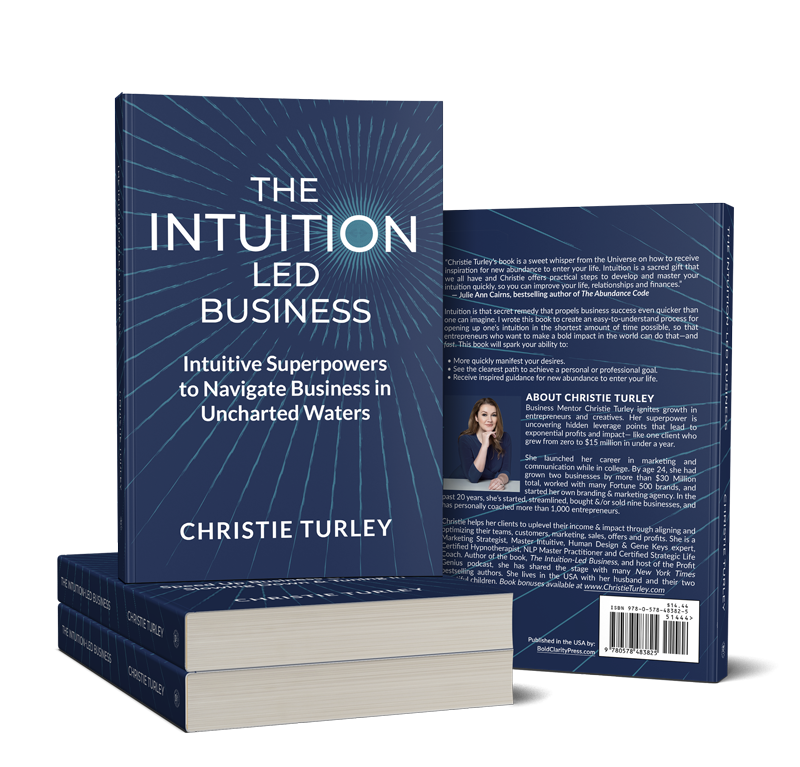 Free Mini-Training
First Chapter Immediate Access (PDF)
Plus, other bonuses mentioned in the book!
What People Are Saying about
The Intuition-Led Business
"Instantly Inspired! From the moment I read the intro to this book I was hooked. Then the first chapter officially sealed the deal. It was difficult not to believe this book was written specifically for me. How did Christie know me so well and know exactly what I needed to hear?
I am a successful career woman who loves her family and embraces my relationship with God/Source. I am also a recovering perfectionist who still needs messages of guidance and encouragement to trust and build my intuition. It was so exciting to get this affirmation from someone who has been there. This book was so easy to read because it felt not only as though Christie was speaking directly to me but that she was so being Divinely inspired with her message. A message that was real, informative, loving and empowering. I cannot recommend this book enough."
— Karith Foster
Founder of Inversity Solutions and
Author of You Can Be Perfect or You Can Be Happy

"The Intuition-Led Business takes what a lot of leaders know to be true but puts a language, a process and a way to lead a business in the present era. Christie really hits the salient points of not only the 'how to' but also tapping into one of the greatest growth advantages business leaders have for growing their businesses. I'm in the process of growing my team because as I've used my intuition, the business is growing! I'm living proof! "
— David McGlennen, President of Impact Leadership and Founder of Emerging Leader Inner Circle

"This book is the missing piece of the success puzzle that most spend their life searching for or get painfully found when it's already too late. This should be required reading for entrepreneurs, business owners, or employees at every level to connect with what makes us all special, our gift. Use this book to chart your path towards your greatness with a fuel that never runs low and always guarantees success."
— George Bryant
Host of The Mind of George Podcast and Serial Entrepreneur

"Have you ever wanted to 'follow your gut' when it comes to business? If so, this book is for you! It highlights the power of tapping into your intuition through beautiful, relatable analogies, and Christie's emphasis on self-care and gratitude as foundational to connecting with your intuition inspires action. This book also validates that the roller coaster of the entrepreneurial journey is OH SO REAL…and you are not alone with those doubtful second-guessing thoughts. Seeing numerous examples of limiting beliefs written in the book as if they had been pulled right from my own thought pattern helped remind me that self-doubt only leads to failure if you let it take hold. If you are wondering if the entrepreneurial journey is for you, or considering letting go of a business you have, read this book BEFORE you make your decision."
— Tammy Barlette, CEO & Co-Founder of Athena's Voice

"Intuition Is An Entrepreneur's Super Power! Intuition is a seldom used entrepreneurial super power that is rarely talked about in business. As more and more entrepreneurs focus on building "heart centered" businesses, it's important for them to recognize how their intuition can not only help their bottom lines, but more importantly, help them find joy, passion, and fulfillment in their businesses. In her book, The Intuition-Led Business, Christie Turley unveils a step-by-step process to support entrepreneurs in accessing their intuition and tapping in to this hidden super power. Be sure to add this book to your library!"
— Coach Michael Taylor
Entrepreneur, Motivational Speaker, and author of The New Face of Entrepreneurship

Instinct vs Intuition... What an awesome differentiation! I absolutely love the concepts taught in this book! Christie has tapped into some very personal experiences to express how business leaders need to follow the intuition they have been blessed with as a means of directing their business. She reminded me that too often we have a tendency to operate by our EGO (Edging God Out). I am a man of faith and firmly believe that exercising our ability to follow our intuition, or God's will for us is something too many leaders do without. As a result, many lose track of what really matters most in their lives. Following our intuition will lead us down a path that will lead to the best possible outcomes in our lives, and our business. GREAT READ!!!
— Todd Westra
CEO & Founder of Mokuteki, Team Builder and Leadership Consultant

"Much of the book hinges on the idea that business and marketing (and life) aren't cookie cutter processes. By challenging 'group think' and exposing the weak points in the hyper-systemization of business, Christie Turley has successfully created a 'one-size-fits-all' solution to find YOUR UNIQUE SYSTEM toward self mastery. Christie's thought provoking insights and analogies provide the framework for anyone to develop their intuition. This book shows you how to move inward. You'll take leaps toward accessing your higher self so you can share your unique talents with the world and live according to your highest purpose. I recommend this book for anyone looking to synchronize their business efforts with their overall happiness and satisfaction in life."
— Jason Schultz, Founder & CEO, Collective Age Media

Frequently Asked Questions
Your True Authority
It's time to shed our mystical outer gurus, to become less reliant on an expert who teaches you a "1, 2, 3" formula or method. Your intuition is your inner guru and will always steer you in the right direction for you, if you tune into it.
Your Inner Power
The famous inventor and scientist Nikola Tesla said, "The gift of mental power comes from God, Divine Being, and if we concentrate our minds on that truth, we become in tune with this great power."
What Blocks Intuition?
When there's a conflict between the conscious and subconscious minds, between who you think you're supposed to be and who you actually are, this manifests as insecurity and blocks your intuition. Other daily actions can also block it.
Receiving Answers
Intuitive messages will keep repeating until we hear them or until the opportunity to act has past. By opening ourselves up to our intuition, we can receive answers in both expected and unexpected places.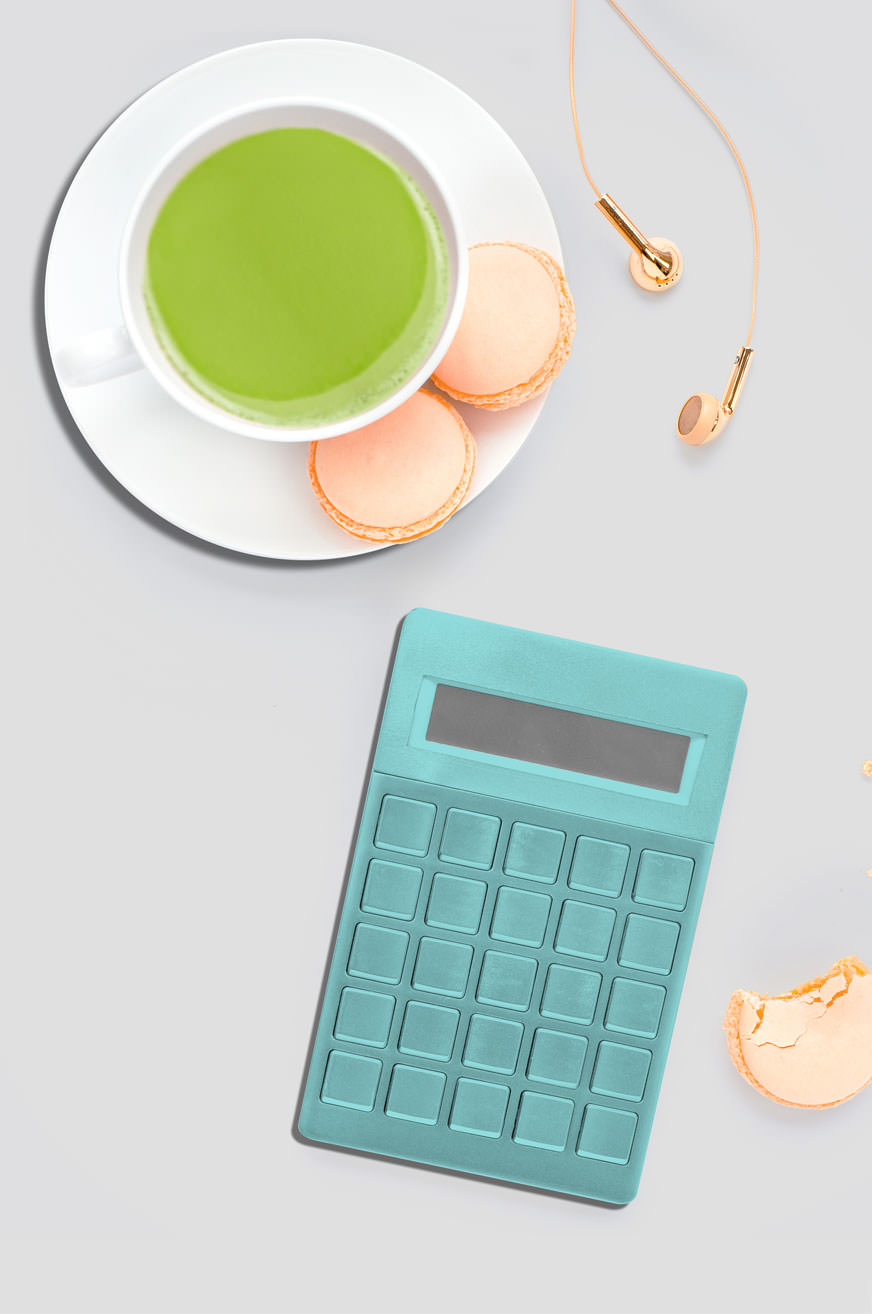 Christie & Her Clients Have Been Featured In:
---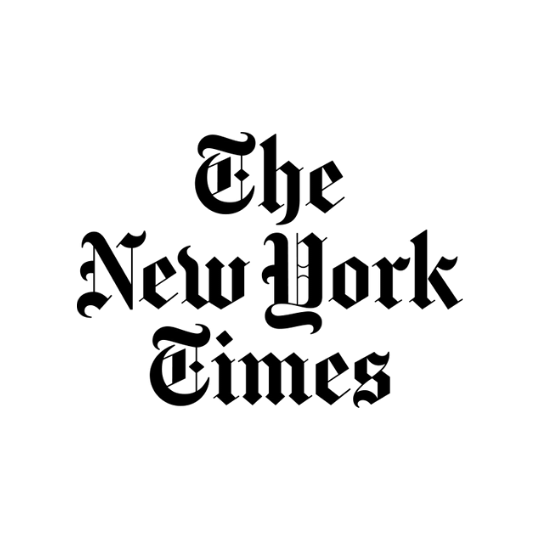 ---
WATCH: Podcast Interviews
---
---
LISTEN: Selection from My Book
---
WATCH: Selection from My Book
You have a magnificent choice to make: keep moving on your path by default, or create your new path – your path of destiny, upgrading your business and life into something far more glorious than you can imagine.
Author of The Intuition-Led Business

Claim Your Bonuses
By Ordering the Book
About the Author
Christie Turley guides visionary leaders to live fully in their genius, so they can improve decision-making and deliver greater profits, influence and impact.
Earlier in her career, Christie helped two international start-ups achieve triple-digit growth, earning placements in the INC 500. During the next two decades, she launched hundreds of award-winning marketing campaigns for start-ups and Fortune 500 brands and helped to sell more than $3 Billion dollars of products and services.
These earlier experiences provided Christie with unique insights into why high performers experience burnout and failure: they ignore their subconscious mind's role in decision-making. She believes that conscious decision-making is the keystone to effective leadership, engaged teams and business innovation.
Christie Turley is the author of the book, The Intuition-Led Business, which offers a framework for unlocking the intuitive and subconscious minds, and she is founder of Conscious State University, an online learning platform that teaches leaders and teams how to make better decisions using science-backed methods. A dynamic speaker, she has shared the stage with many New York Times bestselling authors and is the host of The Higher Genius Podcast. She lives in the southwestern United States with her husband and their two daughters.
Connect with @ChristieTurley on YouTube, Instagram, LinkedIn and Facebook and on her website https://christieturley.com.