Business Growth, Realignment & Reinvention for Conscious Entrepreneurs
Business Mentor & Spiritual Medium
---
How would it feel to:
Align your business to your higher purpose.

Manifest your intentions into reality.

Clear blocks, beliefs & restrictions.

Develop your intuition into a superpower.

Reinvent yourself & your business.

Find joy, fulfillment & harmony in your life and business.

Ignite a movement with your message.

"You're getting the experience of a successful business women, combined with the intuition of a guide— someone who is very in-tune and connected to different facets of the world, but also you're getting an education that will transform every aspect of your business, so that there's growth in multiple facets of your business."
— Karith Foster, Author & Speaker and Founder of Inversity™

"She encouraged me to step outside of my comfort zone to try some outside of the box approaches to my business. Her approach was exactly what I needed as I was building and growing my business."
— Kim Maes, Coach, Healing the Gut

My Zone of Genius
My Zone of Genius is my ability to uncover an individual's Divine Soul Blueprint (gifts, strengths, talents, purpose) and optimize the 4 P's of Business to be in alignment with their Blueprint.
The 4 P's of Business:
△ People (Yourself, Team & Customers)
△ Promotion (Marketing)
△ Processes (Systems & Methods)
△ Profits (Products, Services & Sales)
The more entrepreneurs evolve their consciousness, the more important it is for them to be in complete alignment with their Divine Soul Blueprint and Purpose. When they're in alignment, they can more quickly manifest their financial intentions and feel fulfillment and joy.
The "Inner Work" of realigning to your Divine Soul Blueprint and your Higher Purpose is just as important as the physical shifts in the Business to identify and act upon (People, Promotion, Process, Profits).
I assist conscious entrepreneurs to recognize and embrace their Divine Soul Blueprint and guide them through to their Next Level, including what to realign, revive and reinvent in their lives and businesses.
Increased Financial Flow is the Inevitable End-Result When Your Business is Aligned to Your Soul Purpose
This mentoring program aims to identify WHERE energy is not flowing in the business and is not aligned to the entrepreneur's purpose and financial intentions. When these energetic misalignments are identified, it's the equivalent of finding the ONE log that unlocks a "Log Jam."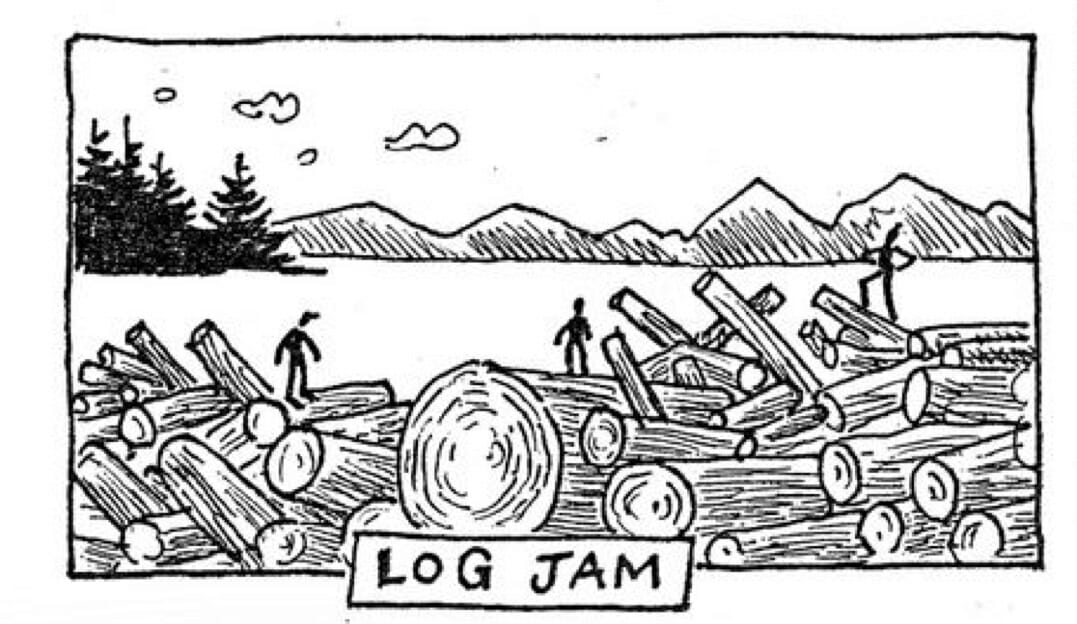 In reality, there can be many "logs" or areas of your business that are not currently in full alignment with your purpose & financial intentions found in the 4 P's of Business (mentioned above).
I identify what specific areas are causing blocks in flow and what specifically can be changed in each area for increased abundance.
Unlocking What is Misaligned Can Create Exponential Results
By making divinely guided tweaks to one area (or more) in your business, you can see your financial flow increase exponentially.
Align to Your Divine Soul Blueprint
Discover your Divine Soul Blueprint and how to align to it in your life and business, so that you can manifest your intentions more quickly and smoothly.
Receive answers to questions like:
What is your soul made of?
What are your soul's specialties and gifts?
Why did you choose to come to Earth at this time?
What did you come here to do and be?
What is the highest expression of your gifts?
How can your business be a vehicle to express those gifts?
What are the underlying drivers and root causes of pain, suffering or imbalance in your life and business?
What are the specific root causes of feeling blocked or stuck?
What is the gap between who you are now and your ideal Future Self ?
What are some adjustments that can be made in your life and business to get into alignment?
What is the root cause of any uncomfortable life or business situations you're experiencing?
What can be cleared or acted upon to manifest your financial intentions and feel joy and fulfillment?
And answers to other burning questions you'd like to ask.
FuturePerfect™ Personal Alignment
Includes:
Divine Soul Blueprint Intuitive Reading of your energetic qualities, gifts and strengths, so that you can come into awareness of your Blueprint, align to your ideal Future Self and step into your inner authority and full Divine self-expression. This is done through the Akashic Records (explained further in the FAQ section below).
Clearing of blocks, energy leaks, negative patterns, negative agreements, distortions, and misalignments in your Akashic Records.
Divine Soul Blueprint Session on Zoom (2 Hours): I'll discuss with you what came up in your Akashic Records, including who you are at soul level, your gifts, and any negative blocks and restrictions affecting: you, your energetic flow and full access to your gifts.
Clearing & Realignment of your home and property.
Investment: $1k
FuturePerfect™ Personal + Business Alignment
Being an entrepreneur is THE highest way to fully embody and express your divinity. The more aligned your business is to your Divine Soul Blueprint– the more joy, fulfillment and financial results you'll experience in your business.
Includes:
Personal Alignment as discussed above.
Alignment of Your Business to Your Divine Soul Blueprint + Intuitive Reading & Clearing of any Misalignments in your Business. I'll identify and clear any blocks, restrictions and misalignments within your current business. I'll also identify targeted ways for you to fully express yourself in your business and experience more joy, fulfillment and abundance, all based on your unique Divine Soul Blueprint.
Clearing & Realignment of your business location and property, including energy flow, negative entities and any other misalignments.
Energetic Analysis of Your Business including any misalignments with the Business, Products & Services, Marketing, Sales, Team Members (advisors, contractors, employees) and Systems. I'll share with you specifically what can be changed using my intuitive gifts and my 20 years of business experience.
Business Alignment Session on Zoom (2 Hours): In this session, you'll receive a presentation of the Energetic Analysis of your Business as well as laser-focused coaching on how to fully step into your fullest divine expression in the business, optimize your energy, maximize business results and harmonize work & life.
Laser Focused Next Steps: This unique program is not just about gathering interesting information; it's about identifying precise opportunities and actionable information to inform your next steps towards your goals, as well as mentoring & accountability.
Investment: $1k
Prerequisite: Personal Alignment (above)
---
Frequently Asked Questions
20 years. 9 businesses started, streamlined, bought &/or sold. 3 business partners. 1000's of entrepreneurs personally coached.
Business Mentor Christie Turley sparks reinvention in authors, speakers and coaches, so they can align their businesses to their future selves, breakthrough their money ceilings and manifest abundance in all eight areas of life. Her superpower is uncovering hidden leverage points that lead to exponential profits and impact— like one client who grew from zero to $15 million in under a year.
She launched her career in marketing and communication while juggling college classes. By age 24, she had grown two businesses by more than $30 Million total, worked with many Fortune 500 brands, and started her own branding & marketing agency. Since then, she's started nine businesses and has loved working with transformational authors, speakers and coaches during the past 20 years.
To help entrepreneurs awaken their prosperity, she mentors business owners and shares her Intuitive Gifts and her knowledge as a Money Strategist, Certified Hypnotherapist, NLP Master Practitioner and Certified Strategic Life Coach. She is author of the book, The Intuition-Led Business, a podcast host, and has shared the stage with many New York Times bestselling authors. She lives in the USA with her husband and their two beautiful children.
I have first-hand experience growing NINE of my own businesses, including:
A marketing & branding agency
A brick and mortar retail location & franchise
Three eCommerce companies
A digital scrapbooking company
A consumer packaged goods company
A membership & knowledge business
A clothing manufacturer and retailer
I have personally advised more than 1,700 businesses and counting, including:
Authors & Speakers
Coaches & Consultants
Celebrities
Pre-revenue start-ups
Service-based businesses
Brick-and-mortar businesses
Spiritual & metaphysical businesses
Non-profits and social enterprises
My Most Notable Client Results
Helped grow a Start-up from zero to $15million in 5 years.
Helped grow another Start-up from zero to $15million in under a year (<-- not a typo).
Helped grow a company by 3000% and achieve a Top 75 ranking in the INC 500.
Grew traffic by 3X, leads by 6X and event sales by 33% for a knowledge business.
Achieved 770% ROI on campaign and a 315% increase in sales within 60 days and publicity on MTV, Disney and Bravo for a costuming company.
Increased traffic by 400% and qualified leads by 500% within 3 months for a coaching company.
Developed a new brand story and marketing strategy to create a 30:1 Return on Investment— compared to the company's previous 6:1 control for a brick-and-mortar business.
FuturePerfect™ May Be Right For You, IF:
You're passionate about making a difference and creating a large impact with your work.
You'd like to have someone in your corner who can hold your big vision.
You desire a public image that matches who you are and what you came here to do.
You know that your big leap isn't going to happen through hiring a marketing firm or buying a course.
You know that even Gold Medalists need coaches to win the Olympics. You have an open mind and willingness to be coached.
You'd like to remove fears and self-sabotage that come as you succeed on a larger scale.
You're ready to invest in yourself and your business.